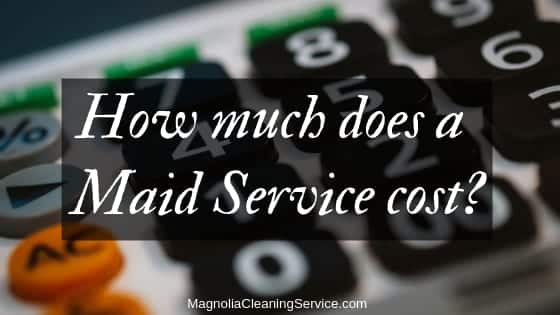 Every week I am asked by people who are interested in our Maid Service, "How much does a Maid Service cost?"
This is a great question and one that many busy families ask as staying within the family budget is important. The costs associated with a Maid Service are driven by a couple key factors within the quote outline and when you understand how a Maid Service quotes then you can better match your cleaning needs with the best Maid Service you can afford.
What this article is going to do is to explain the process that a Maid Service uses for quoting your home in a very simple and transparent manner. I own a large Maid Service in Central Florida and have been in this industry for over 20 years. I will also share a couple points that I ask every family who is interested in hiring our maids so you can better understand the costs and fit from the "other side of the table". By the end of this article you will be able to identify which Maid Service is the best fit for you and your budget.
Let's get started with a quick video where I will walk you through the first steps in understanding how much a Maid Service will cost.
Factors for you to consider before speaking with any Maid Service:
How frequently do you need a Maid Service to clean for you?
What is the square footage and bedrooms/baths of your home?
Will you be tidying up your home before the maids come for your cleaning?
What is the general "state" of the home?
Do you have pets?
Do you need additional services like dishes, bed sheets, game rooms, garage or patio cleaning etc?
Are you going to provide the supplies or are you expecting the Maid Service to bring them?
A professional Maid Service will be able to find a customized cleaning plan that can fit most budgets. Whereas a low cost driven Maid Service will cut corner, have significant turn over of their staff and only be able to stand by their "low cost".
Questions that you need to ask yourself before hiring a Maid Service include:
Having a clear understanding of your cleaning needs BEFORE you speak to a Maid Service is really important. If you are like our customers, you have a very busy family life and a home that needs customized cleanings beyond just a standard less frequent pace. Our customers homes are most often in a maintenance state and rarely will be unclean in-between cleanings. The reason for this is the last question to consider. Is the Maid Service you are looking for going to partner with you to really understand what you need? When both parties are clear on expectations, needs and then budget then this sets the stage for the Maids' success?
Ultimately hiring a Maid Service is a balance of your cleaning needs, your trust and then your budget (Cost). After all you are letting strangers in to your house! When you go in this order then you can be sure that you will be working with best Maid Service in your local and one that can bring the most value for your budget. You get what you pay for is very true when finding a Maid Service for your home. Oftentimes when you focus only on the cheapest service or cost as your only factor you will soon be looking for another Maid Service. What is the value of your time and why do you want a Maid Service in the first place? Exactly…. save time and money in the long run and focus on your needs, your trust and then the budget to find your Maid Service.