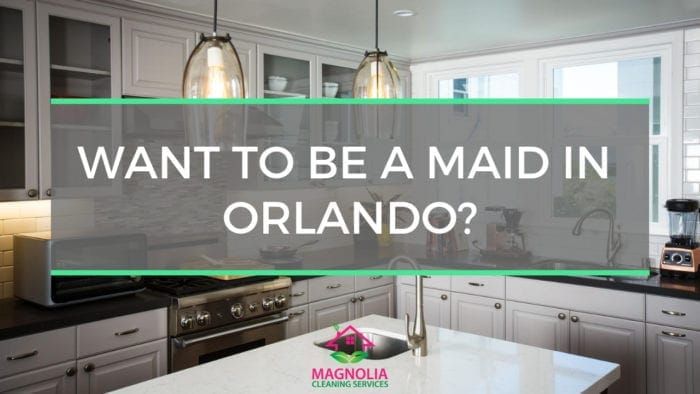 So you are looking for a Maid Service job in Orlando? Are you frustrated with the Maid Service jobs you are seeing on Indeed, Monster and CraigsList?
This may be your lucky day as Magnolia Cleaning Service, one of Orlando fastest growing Maid Services, is looking to hire! Magnolia Cleaning Service is a family owned Maid Service and are presently looking for fun, energetic and honest new Maids.
If you are looking to apply for a Maid Service position in Orlando then please take a moment to watch this quick video from the owner of Magnolia Cleaning Service on what we look for in new employees.
Here is the link to our job application for you if you live in Orlando and want to be considered for our next Maid opening.
Click here to apply for our Maid Service job openings in Orlando

Apply for this Orlando Maid Service Job if:
You are a Team Player
You are Honest
You take a lot of Pride in the work you do
You are Loyal
You like to have fun and work hard.
Do not apply for this Orlando Maid Service Job if:
You are not a Team Player
If you have a hard time committing to an employer that is interested in your development and long term employment.
You cannot be counted on
You are grumpy and not fun to one around
You cannot pass a criminal background & cannot be trusted
You do not have your own car
The best fitting new Maids do everything they can on day one to align to the mission of Magnolia Cleaning Service. The mission off Magnolia Cleaning Service is…
The sole purpose of Magnolia Cleaning Service is to provide our clients with services unmatched my anyone in the Magnolia Cleaning Service industry. It is our goal to provide consistency, structure, integrity and a true passion for the job that is reflected in every cleaning that we complete.
Does this sounds like a great place for you? If you think so then please apply as we would love to talk to you and see if you would be a great fit for our cleaning teams.
Again we are always looking for awesome new Maids to join our team and to help us continue to deliver on our goal of providing the best quality Maid Service in Orlando.